Description
The mission of the InCHIP Pregnancy & Post-Partum Health Research Interest Group is to bring together researchers and stakeholders from the greater Connecticut community who share a common interest in understanding, promoting, and managing health and health behaviors during pregnancy and the post-partum period.
This group focuses on research related to health of childbearing persons including pre-conception, pregnancy, post-partum, and inter-conception health, and on parental health during the child's first 1,000 days of life (i.e., pre-conception through 2 years old). This RIG aims to facilitate interdisciplinary research collaborations on these topics and provide opportunity for mentorship of junior faculty, postdoctoral fellows, and graduate students.
The group plans to meet at least once a year, co-sponsor talks as part of the InCHIP lecture series, host a monthly writing group, and host an information/discussion listserv to share research ideas and funding opportunities. We welcome ideas of how this group can support and promote researchers, clinicians, and advocates in this area.
Leadership Team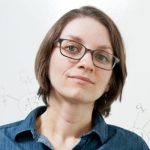 Molly Waring, PhD
Associate Professor
Allied Health Sciences
molly.waring@uconn.edu