The Mind-Body Health Research Interest Group (MBH RIG) is an interdisciplinary research collective that was established in 2015 and became part of InCHIP in 2019. Its mission is to further education, research, clinical/practical application, and community outreach with a focus on the emerging potential connections between the Mind and Body. The MBH RIG Directors are Drs. Melissa Bray, Mary Guerrera, Ana Verissimo, and Sandra Bushmich, and its members include students, faculty, and staff from UConn Health Center; UConn Hartford; College of Agriculture, Health, and Natural Resources; Neag School of Education; Operations and Information Management (OPIM) Department; and Student Health and Wellness. Non-UConn partners include Connecticut Children's Medical Center, Copper Beech Institute, and Root Success Solutions™ LLC.
Leadership Team
Upcoming Events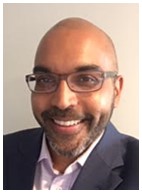 Upcoming Event on October 18 at 6-8 pm:
"Connection: Exploring the Science of Mindfulness and Relationships." Led by Dr. Vamsi Koneru from Copper Beech Institute.
---
Join the Mind-Body Health Research Interest Group