The Mind-Body Health Research Interest Group (MBH RIG) is an interdisciplinary research collective that was established in 2015 and became part of InCHIP in 2019. Its mission is to further education, research, clinical/practical application, and community outreach with a focus on the emerging potential connections between the Mind and Body. The MBH RIG Directors are Drs. Melissa Bray, Mary Guerrera, Ana Verissimo, and Sandra Bushmich, and its members include students, faculty, and staff from UConn Health Center; UConn Hartford; College of Agriculture, Health, and Natural Resources; Neag School of Education; Operations and Information Management (OPIM) Department; and Student Health and Wellness. Non-UConn partners include Connecticut Children's Medical Center, Copper Beech Institute, and Root Success Solutions™ LLC.
Leadership Team
Melissa A. Bray, PhD
Professor
School Psychology
Neag School of Education
email
Mary P. Guerrera, MD
Professor Emeritus
Family Medicine
UConn Health
email
Sandra Bushmich, DVM
Associate Dean for Academic Programs
College of Agriculture, Health and Natural Resources
email
Ana Maria Verissimo, MD 
Retired Assistant Professor of Pediatrics
Pain and Palliative Medicine
Connecticut Children's Medical Center
---
Upcoming Events:

"Introduction to Ayurveda"
Vanashree Belgamwar, BAMS
When: Wednesday, March 8 | 7pm-8:30pm Eastern
Where: Hosted Virtually on WebEx
Ayurveda is known as the 'Science of Life.' This ancient holistic system of medicine originated in India about 3000 years ago and is now spreading all over the world. Ayurveda treats every human being uniquely and teaches each of us how to live in harmony with nature so we can live a happy healthy life. This introductory workshop will focus on basic principles of Ayurveda and how they can be used in our daily life. Get familiar with your unique constitution and the changes you can incorporate in your daily routine to be balanced physically, mentally and emotionally. You will be amazed to know the secrets this science has to offer and you will fall in love with it!
Vanashree Belgamwar is an Ayurvedic practitioner and a Hatha yoga teacher. She holds a Bachelor's degree in Ayurvedic Medicine and Surgery from the University of Health Sciences, India. Her consults focus on balancing all these aspects of life. Listening to her clients and guiding them through their ups and downs is what she likes the most about her practice.
---
Past Events:
"Hygge and Happiness"
Speaker: Claus Elholm Andersen, Ph.D.
Wednesday, January 25th
A recording of this workshop can be viewed here.
---
"Go Outside, Go Within:  Mindful Nature Connection for Surviving Zoom and Nature Deficit Disorder"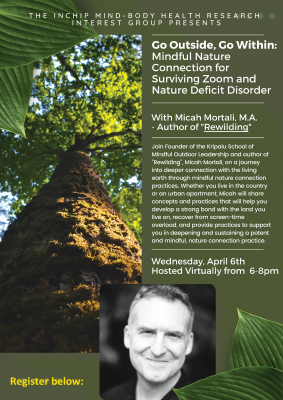 A recording of this webinar can be viewed
here
.
"Connection: Exploring the Science of Mindfulness and Relationships"

Webinar on October 18, 2021 led by Dr. Vamsi Koneru from Copper Beech Institute.
A recording of the webinar can be viewed here.
---