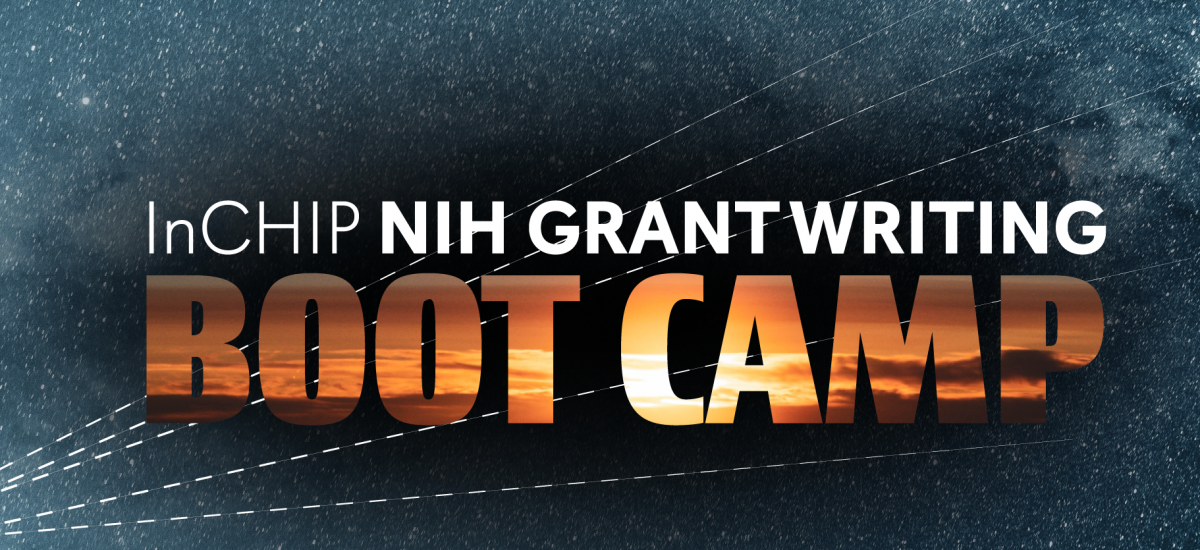 Overview:
The InCHIP NIH Grant Writing Boot Camp provides UConn faculty who are interested in writing either a NIH research (R-series) or career development (K-series) award with an introduction to the NIH grant writing process (via lectures), while also providing structure, accountability, and support (via mentored review sessions).
Application Deadline: January 20, 2023
Program Structure:
Zoom Review Sessions: Starting January 30, 2023, participants will meet every other week with Boot Camp Director, Seth Kalichman, to review each section of their proposal. During these meetings they will receive personalized feedback, have opportunities to ask questions, and delve into details.
Writing Deadlines and Accountability: Participants will be expected to submit drafts of each section for review so that, upon completion of the entire Boot Camp, participants will have a near complete draft of their proposal.
Online Lectures: Between sessions, participants will engage with 7 online didactic sessions (about one hour each) that provide the basics of how to approach NIH grant writing from InCHIP Research and Development staff and experienced PIs.
Optional Pre-Submission External Review: ~6 weeks before the NIH deadline, participants will work with Boot Camp leaders to identify appropriate external reviewers, whom InCHIP will then contact to solicit a NIH-style written review (note: InCHIP provides external reviewers with a small honorarium).
When are the Meetings?
Every other Monday from 12:00 – 1:00 pm EST via Zoom starting on January 30th.
Who Should Participate?
We invite UConn faculty and UConn Health faculty doing health-related research who are either new to NIH grants (including those with experience with other funding such as NSF) or have submitted unfunded applications to NIH previously and wish to brush up on best practices to participate. It is important that participants be ready to write their proposals during the duration of the bootcamp. The goal is to have a complete draft upon completion of the semester.
Time Commitment:
Participants should be ready to write their grant proposal during the Spring Semester. Participants are required to attend all 1 hour Review Sessions (held every other Monday from 12:00 – 1:00 pm). In addition to the review sessions, participants should view and engage with the recorded online materials and lectures. During the off weeks, participants will be expected to write and submit drafts of each section so that they can be reviewed by Dr. Kalichman prior to the review sessions.
Topics Covered
Introduction to the NIH, finding funding, and building your team
Structuring your sales pitch-writing an NIH-style Specific Aims section
Communicating your Research Strategy – Significance, Innovation, Approach
Crafting a Budget
Biosketches
Human Subjects Sections
Training Plan & Candidate Sections (for K-Award Applicants)
Grant Writing Boot Camp Application
Have Questions?